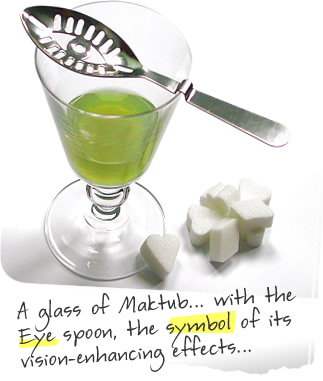 "Let me be mad, mad with the madness of absinthe, the wildest, most luxurious madness in the world..." —Marie Correlli
This is Absinthe
T
rue absinthe. Packed with real, mountain-picked Artemisia Absinthium (wormwood) and at 140 proof (70% ABV), this is absinthe that will summon the Green Fairy in all her glory and style.
Inspiring, captivating, seductive and mind-opening... The Green Fairy—the metaphorical creature hidden in an absinthe bottle—is always ready to deliver, whatever the circumstance, occasion or purpose.
On a quiet night in, she will help to ease the stresses of everyday life. On a wild night out, she will be the soul of the party. In an artist's workshop, she will provide a stream of inspiration. She is truly unique, and we think it's time to let her be free again, not clip her wings.
Maktub is the result of over two years of research and experiments. Following an original 1920s recipe (painstakingly tried and tested again and again), Maktub is not a watered-down absinthe imitation. Maktub is real.
A Modern Absinthe
T
o claim that Maktub is a modern absinthe is something of an overstatement, because absinthe as such is not a modern drink. Absinthe is a drink of the past, a drink that was banned for decades before finally making a recent reappearance. But Maktub is a more modern absinthe than most, and that's what makes it unique.
Maktub doesn't trace or claim its origins in the remote nineteenth century; it isn't the absinthe of Rimbaud, Verlaine or Baudelaire. Maktub is the absinthe of Hemingway, Fitzgerald and Picasso, to name but a few.
Maktub's recipe originates in the beginning of the modern age, in the exciting 1920s: in the age of jazz, the age of automobiles and aeroplanes, in the time when Warner Brothers made the first "talking movie" and when John Baird first conceptualized the curious device we now call television.
A Party Absinthe
T
he 1920s was the age of new-found optimism, excitement and euphoria, but also of lavish excess and decadence. From Berlin through Paris to Marrakesh, exotic parties were thrown, featuring live leopards and lions; hostesses often dressed as Egyptian Goddesses while guests sported a variety of bizarre costumes. Ornate decanters filled with absinthe and vast supplies of caviar were the norm.
This was the age when any kind of "giggle water"—and absinthe in particular—was drunk with carefree abandon.
Less Anise, Better Flavor
M
aktub's origins also mark its taste: vibrant and crisp, but, importantly, lower on anise, the ingredient that gave its predecessors a strong licorice flavor. The licorice flavor, once so beloved by the absinthe crowd of the nineteenth century, largely fell out of fashion by the time the jazz age arrived.
Just like any true absinthe, Maktub does contain anise, but not in overwhelming quantity. As a result, Maktub has a wider appeal than earlier-style absinthes.
Contains Thujone
T
hujone is the natural essential oil of the Artemisia plant, and the substance that gives the Green Fairy her wings, so to speak. Thujone is credited with the pleasant euphoria, unusual lucidity and other puzzling effects that set true absinthe apart from all other "ordinary" liquors.
Unlike most present-day absinthe substitutes and imitations, Maktub contains the original level of thujone.
Enjoy Maktub
M
aktub is available in selected European stores (contact us for a list), while North American and worldwide customers can buy online at absinthe.in/buy.
Maktub is legal to posess and enjoy in the United States, Canada, Australia and all the other countries we list on the order page. We guarantee delivery of all orders.
Purchase your bottle today and experience absinthe quite unlike another.
We know you will love it.
Copyright © 2010 Absinthe.In