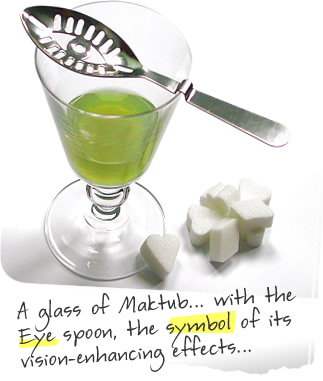 Why Maktub?
The word "Maktub" is of Arabic origin and it literally means "it is written". From a mystical or spiritual point of view, it expresses the fact that whatever shall happen is already known to God. In a simple term, "Maktub" means destiny.
Although we can't be sure what inspired the original 1920s creator of Maktub absinthe to choose the name, it seems to allude to absinthe's perplexing vision-enhancing effects. It seems to allude to the avant-garde absinthe-drinking visionaries of the 19th century who had the curious ability to propose ideas that were years ahead of their time. Almost as if they somehow peeked into the future. Almost as if they saw what was meant to be, what was destined.
And what was destined—and what they predicted—was progress: artistic progress, social progress and great advances in science and technology.
This original absinthe crowd of the 19th century—writers, artists, scientists and social commentators—were largely misunderstood, under-appreciated, even labeled a bunch of dangerous 'radicals' in their day. But by the 1920s, most of their 'rebellious' visions had in fact materialized as society moved on and shed the oppressive constraints of the Victorian era. By the 1920s, it had become clear the original absinthe rebels were right.
The name Maktub, it seems, is a tribute to them. A 1920s tribute to 1870s rebels.
What makes Maktub different?
Maktub was created over 120 years after the Henriod sisters of Switzerland made the first absinthe ever, and about 50 years after absinthe first became popular amongst the bohemian crowd.
Essentially, Maktub's is a more modern recipe, and it shows in its taste. The bohemians and party-goers of the jazz age no longer cared for anise as much as their predecessors, so Maktub contains less. And less anise, of course, means less of the unpopular licorice flavor.
But less anise doesn't mean less power, because it is another herb—grande wormwood—that gives the Fairy her wings. Unlike so many present-day absinthe imitations, Maktub is made with a full measure of real wormwood, not any substitute. As a result, the finished product contains thujone, the element responsible for the unusual absinthe effects.
How does it feel to drink Maktub?
The effects of Maktub (or any thujone-bearing absinthe) are not easy to describe in words, which is why those who try almost always resort to metaphors or poetry.
Ernest Hemingway once described the liquor as "brain-warming, idea-changing liquid alchemy", while the dramatist and poet Oscar Wilde pondered, in one of his rhapsodic moments: "What difference is there between a glass of absinthe and a sunset?"
More recently, Frank Kelly Rich, the editor of the Modern Drunkard magazine, wrote:

Absinthe provides you with a surfboard (thujone) and a wave (alcohol) on which to ride it. That is the singular appeal of absinthe over normal alcohol. While alcohol provides a valuable escape, a vacation from one's self, if you will, absinthe offers the same journey (on a fast, high-powered aircraft, I might add) with the promise of a window seat with a superior view."
Perhaps a more down-to-earth look at the effects is given by Absinthe Fever, the popular online guide to absinthe:

The thujone in absinthe, it is believed, removes the blocks that normally prevent the mind—and the senses—from working at full capacity. Essentially, absinthe gives the mind the green light to be completely free, at least for a time. In this state, the usually docile subconscious mind is awaken and begins to work in tandem with our conscious awareness, hence the perception of reality on two different levels."
The same publication also quotes an absinthe enthusiast who said:

It is as if you are here, but, at the same time, your mind also enters some other, higher level of awareness. Suddenly, you gain the capacity to observe and understand reality from another perspective. It is as if you have tapped into some strange but wonderful source of information, understanding and creativity."
It pays to remember that the effects are also very individual and can vary significantly each time you enjoy. Your current state of mind will influence the experience, as will the environment and company. In this context, we will give the final word to one of our valued clients. He said:

The thujone does have an effect, it's not just the alcohol – tried enough of that to know the difference :-) It's warm and fuzzy if you're in a warm and fuzzy frame of mind. Though I imagine if you're feeling dark and gloomy..... well, I shudder to think."
With that thought, we will move onto the practicalities of getting a bottle of Maktub to you.
Do you ship to ...?
We ship to most countries in the world, including all of Europe, the United States, Canada, Australia, New Zealand and Japan... but we also serve clients in many other corners of the world. If you find your country listed on the online order form (right after you've clicked Checkout), we will serve you and guarantee the delivery of your absinthe.
Do you guarantee delivery?
Yes, we do. We deliver every single order, period – or your money back. If, for some reason, your package gets lost on its way (which is very rare but does happen once in a while, inevitably), we will re-ship it at no charge to you.
How soon will my order ship?
All orders are processed, packed and dispatched within 24 hours of receipt (except at weekends). We know fast delivery is important to all our clients. We won't let you wait.
Your customer care representative will email you to confirm as soon as your package has gone out.
When will my order arrive?
That depends on your location in the world. If you are in Europe or North America, you'll receive your package within 5 to 7 days (though the odd delay does occur every now and then—not our end, but on the way—so do allow up to 10 days to avoid disappointment if you are planning a party or similar).
Asia Pacific, South American and other customers please allow up to 14 days.
How much does shipping cost?
Shipping is $25 for one bottle (or €18 if paying in Euros), $35 for two and $45 for three or more. Shipping is automatically calculated at Checkout so you will know exactly what you will pay.
How can I pay?
We accept Visa, MasterCard and American Express through a secure payment gateway. We regret we cannot accept bank transfers or checks due to the additional administrative work involved with such payments.
I have another question!
We have a responsive customer care department. Get in touch if there is anything else you need to know.
Copyright © 2010 Absinthe.In